1. Admont Abbey Library, Austria
Situated on the Enns River in southeast Austria, the library of Admont Abbey, constructed in 1776, is breathtaking in its beauty. Baroque architect Joseph Hueber was tasked with developing the design for the dazzling hall. Resplendent in gold and white hues, the library is crowned with seven cupolas whose ceiling space is adorned by Bartolomeo Altomonte's frescos representing different phases of human knowledge. It is also noteworthy for Joseph Stammel's "Four Last Things" sculptures, which bring to life depictions of death, heaven, hell and the Last Judgment. Around 70,000 of the monastery's approximately 200,000 volumes are stored here, and it is the largest library of its kind in the world.
2. Wiblinglen Abbey Library, Germany
If there's anything to be taken from this list, it's that if you want to find a truly stunning library, a visit to a monastery probably won't disappoint. Even amid some stiff competition, the facility in the north wing at Germany's Wiblingen Abbey is perhaps one of the most spellbinding of its kind in the world. Franz Martin Kühn's gorgeous ceiling paintings top a brightly colored, ornately decorated space that was designed by Christian Wiedemann and is deservedly said to be renowned throughout southern Germany for its Rococo style. It was completed in 1744.
3. Melk Abbey Library, Austria
The library at Melk abbey in Austria was paid tribute to by Umberto Eco in the author's famous murder mystery novel The Name of the Rose, and given the immense beauty of the place, it's perhaps easy to see how it could have inspired such an honor. Chief among its prettiest features is the ornate, richly colored ceiling fresco by Austrian painter Paul Troger that represents Faith. Elsewhere, wooden sculptures symbolize the tetrad of faculties, Philosophy, Jurisprudence, Theology and Medicine. Approximately 90,000 volumes are contained within the lovely-looking facility, not to mention many medieval manuscripts and 850 incunables, making it historically important as well.
4. Abbey Library of Saint Gall, Switzerland
Its wide-ranging collection of manuscripts – some of which date back to the 8th century – helps make the facility at the abbey of saint gall in St. Gallen, Switzerland one of the most significant monastic libraries on the planet. Along with the rest of the abbey, it is listed as a UNESCO World Heritage Site for being "a perfect example of a great Carolingian monastery." With its areas of magnificently carved wood, paint and stucco, Austrian architect Peter Thumb's opulent Rococo hall is said to be Switzerland's superlative example of Baroque design. All of this makes visiting to peruse any of its 160,000-plus volumes a pleasure.
5. Bodleian Library, U.K.
The English city of Oxford isn't short of attractive buildings, but arguably one of its most appealing is the Radcliffe Camera, which initially played host to the Radcliffe Science Library but would later come to operate as a reading room for the Bodleian library, one of the oldest of its kind in the whole of Europe. The building is an exceptional piece of 18th-century architecture that was named for its benefactor, medic John Radcliffe, and was opened over 250 years ago in 1749. Influential British architect James Gibbs was responsible for its design, which follows the English Palladian style. The structure itself is the oldest example of a circular library in the country.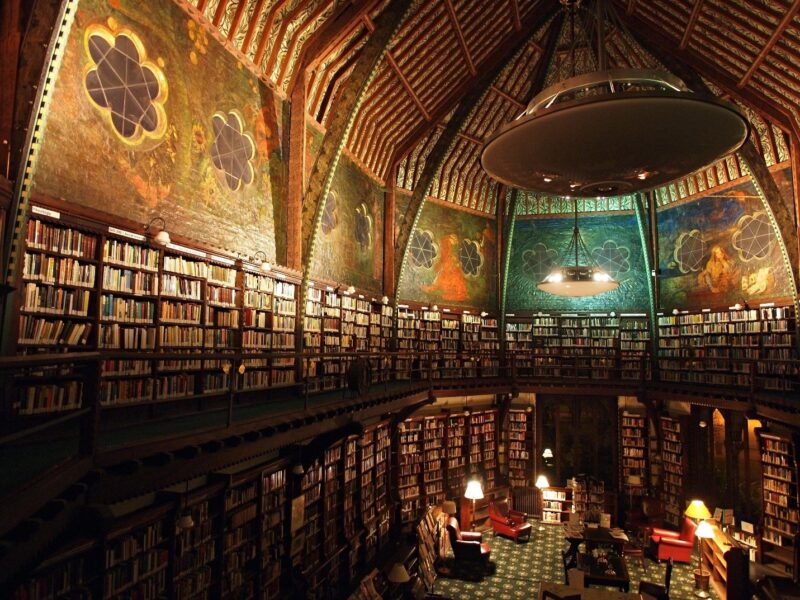 6. George Peabody Library, Baltimore
The library building opened in 1878 and was designed by Baltimore architect Edmund G. Lind, in collaboration with the Peabody Institute's first provost, Dr. Nathaniel H. Morison. The stack room contains five tiers of ornamental cast-iron balconies, which rise dramatically to the skylight 61 feet above the floor.
The library contains 300/000 volumes, mainly from the 19th century, with strengths in religion, British art, architecture, topography and history; American history, biography, and literature; Romance languages and literature; history of science; and geography, exploration, and travel.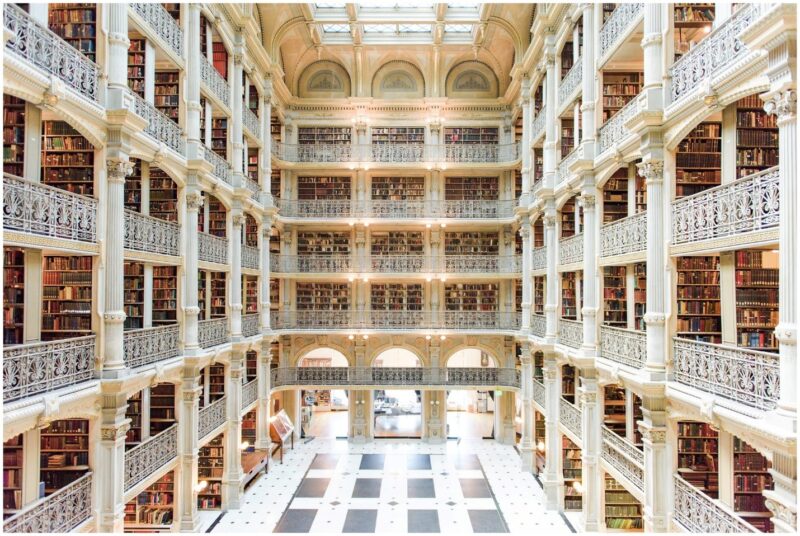 7. The Library of El Escorial, Spain
Not only is this Spanish library a work of art, it's also part of a UNESCO world heritage sites. Originally commissioned by King Philip II in the 16th century, the library's most dazzling feature is a series of seven frescoes that depict the liberal arts (music, rhetoric, astronomy, and so on). The town of San Lorenzo de El Escorial, which is about 45 minutes outside of Madrid, has long been a favorite of Spanish royals, and there's plenty more to see here beyond the library, including a monastery, gardens, and the pantheons of former princes and kings.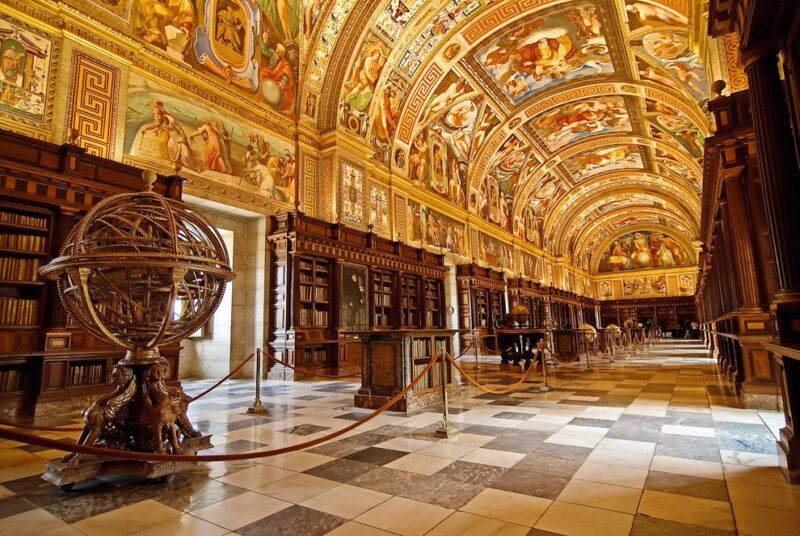 8. Strahov Monastery Library, Prague
The Strahov monastery in Prague was originally founded in 1143. Despite wars, fires, and other disasters, the order endured and built its library in 1679. The library's best-known features are its remarkable ceiling, which is covered in Biblical frescoes, and the "compilation wheel" that turns to rotate shelves in order to make books easier to find without knocking any of them over.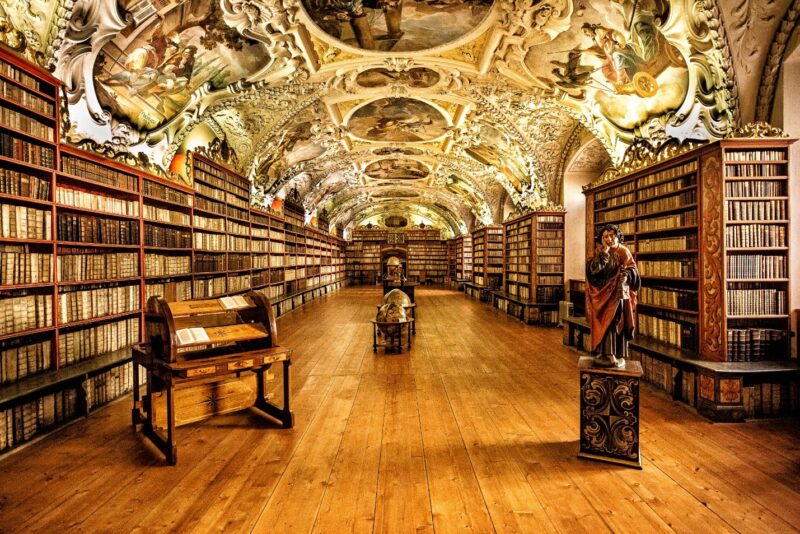 9. Royal Portuguese Reading Room, Rio de Janeiro
Yes, this is a library, but really, it's more like a palace devoted to books. Its limestone exterior was inspired by the famous Jerónimos Monastery in Lisbon , where it was built before being shipped to rio de janeiro . And the interior is just as stunning: There's a red, white, and blue stained glass window letting natural light in through the ceiling, while a silver, marble, and ivory altar welcomes visitors into the building.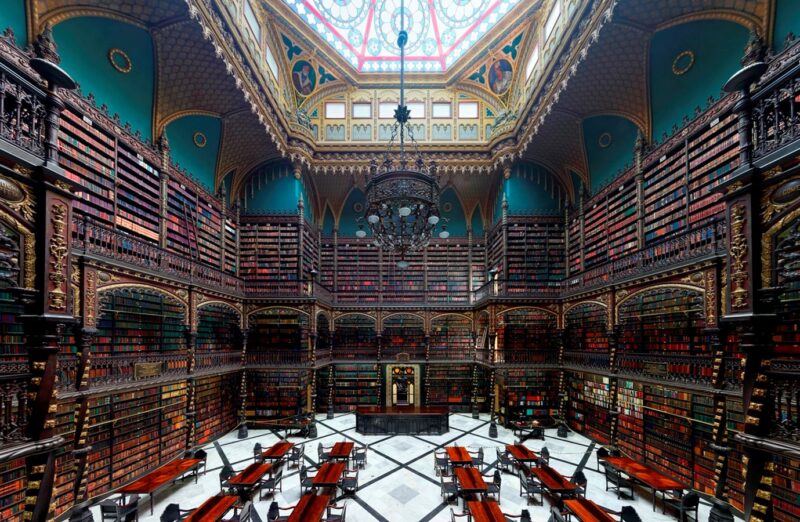 10. Tianjin Binhai Library, China
If China's Tianjin Binhai Library looks familiar, it's probably because photos of the building's futuristic design went viral when the building opened its door in 2017. (It received over 10,000 visitors per day back then, and continues to be Tianjin's top tourist attraction.) Designed by Dutch firm MVRDV, the library features a huge luminous sphere (called 'The Eye') in the middle of an auditorium, cathedral-like vaulted arches, and undulating floor-to-ceiling shelves. There's just one catch: The highest, inaccessible shelves don't actually have books on them—instead, they hold aluminum plates printed with book images.